Kilquhanity House School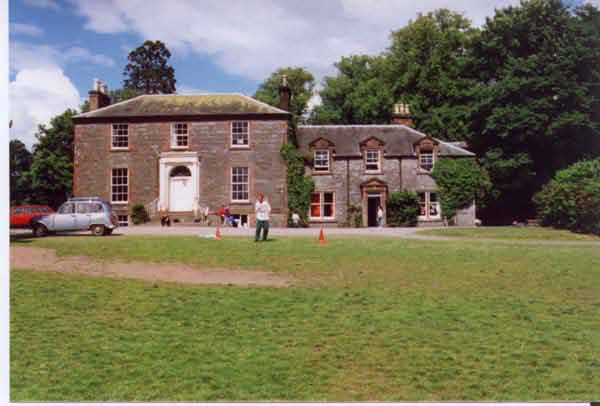 Update: June 2009
Kilquhanity has reopened as a school and has a web page: Kilquhanity Children's Village. I also see that there are now articles on Killy and John at the Wikipedia.
My story
I taught Maths here, and was houseparent to the Middle-landers during 1989-1990.
Kilquhanity (the "quh" is pronounced as "wh" would be) House School was founded in 1939 by John and Morag Aitkenhead after John had visited A S Neill's Summerhill School in Leiston, Suffolk. John had the excellent idea that Neill's ideas should be implemented in Scotland; Neill, after all, was Scottish.
John Aitkenhead was one of the most inspiring people I have ever met; a fully paid up, card-carrying idealist, and 80 years young when I met him. I loved him for his idealism, and openness, and also for the fact that for 50 years he and Morag had been able to put their ideals into action.
My fondest memory of him is seeing him in the byre on the morning of the Halloween party helping the kindergarten children make "tumshie" (turnip) lanterns.
Other memories I like are the time when he was telling me he could hardly wait to get along to the arthouse cinema in Dumfries to see the latest Spike Lee movie ( Do The Right Thing), and another time when we had a conversation about Robin Williamson of Incredible String Band fame.
At Killy I loved my log cabin classroom, at least until the Winter started to take hold and my skills at getting a fire going proved to be non-existent. I loved the morning coffee breaks; milky coffee and toast in the downstairs staffroom, warmed by a (hopefully!) roaring log fire (logs that I'd helped saw that morning).
The kids were great and very supportive, even although I wasn't always very great in dealing with them; basically I was too private and shy as a person to make a go of living communally as Killy required, and too challenged and insecure as a starting teacher to enjoy my time there. I wish I had been able to make more of a go of it, including Useful Work; these days I'd love to be able to start every day sawing logs.
<rant src="dislike of state education">Recently some friends have had to take their two daughters out of a Steiner school and place them in the state education system. They are doing their best to put a brave face on it, but Eric admitted to me that in his view the lesson content and teaching methods in the school were pretty soul destroying. It occurred to me that was the whole point of the state education system!</rant>
"Kilquhanity is on the side of life" - Naomi Mitchison
Killy, for me, was one of the most Romantic episodes in my life, and not an easy one either; a beautiful setting, and high ideals.
I am very proud of having known John and Morag.
Killy closed down in 1997, and John died in 1998.
The following link is to the obituary of John A written by Bob Cuddihy and which appeared originally in The Scotsman.
And here is a BBC Radio Scotland report (2.83MB .wav format ) on the school recorded in 1990, the year of Kilquhanity's 50th anniversary (includes the voices of John A, Ka, and Tom Sutcliffe). The recording is of poor quality and, although it is nice to hear John's voice, you may prefer to read this transcript.
Links to external articles on Killy, and other schools
February 2008: Steve Winning has created a web site Kilquhanity House School 1940 to1997. You can also sign up for news about Killy reunions at Killyreunion@aol.com
Braehead have a page with material contributed by Morag Aitkenhead John Aitkenhead and Kilquhanity School, also an article from Radical Scotland in 1990 50 Years Young The story of a free school, and the text of the book KILQUHANITY'S JUBILEE: Reflections and Creations 1940-1990
Wikipedia on Neill and Summerhill.
Sudbury Valley School is a famous, successful experiment in democratic schooling.